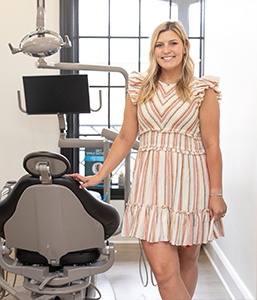 Before I became a dentist, I spent most of my life in a small town in Indiana. I played college golf throughout my pre-dental career, majoring in biology. After my undergraduate career at Marian University, my family and I moved to Boston, Massachusetts, where I completed my studies in dentistry at Tufts University School of Dental Medicine. Following a four-year adventure in Boston, I practiced dentistry on the Cherokee Reservation in the Appalachian Mountains and in Asheville, North Carolina.
I am a mother of two boys and have been married to my high school sweetheart for eight years. We decided to move to beautiful BG to be close to our family. My father and mother currently reside in Bowling Green, where my father has recently opened an engineering firm downtown.
I have a strong passion for focusing on an individual's overall health, practicing critical thinking skills and providing complete comprehensive dental care. Something unique to me and how I practice dentistry is that I feel very strongly about preventive dentistry. I became a dentist for the health of the community.
Please feel free to call for a consultation or appointment. My team and I are excited to welcome you to a new, modern way of dentistry!